G-20 member countries move towards a low-carbon economy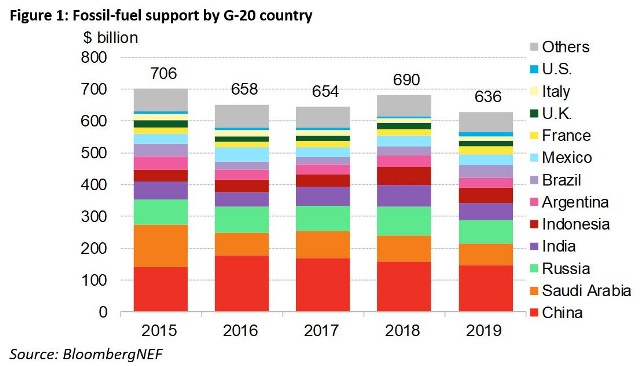 BloombergNEF's Climate Policy Factbook described the progress each G-20 member country is making towards a low-carbon economy.
The report found that the policies of many G-20 countries were drastically out of place to limit global warming to 1.5 degrees Celsius.
What should governments do?
Phasing out support for fossil fuels
Put a price on emissions
Encourage disclosure of climate risks
The Net Zero Assets Owners Alliance, which includes international institutional investors committed to shifting their investment portfolios to net greenhouse gas emissions by 2050, recently called for the adoption of mechanisms carbon pricing to regulate emissions globally.
The phasing out of support for fossil fuels, in particular coal, and the transfer of funding to renewable energies are at the heart of the COP26 objectives and a crucial step to accelerate the transition to clean energy. The report finds that the governments of the 19 G-20 member countries continue to provide substantial financial support for the production and consumption of fossil fuels.
Although G-20 governments announced climate commitments to meet Paris Agreement goals, those same countries continued to support coal, oil, gas and fossil fuels, including $ 3.3 trillion. dollars between 2015 and 2019. At today's prices, that could fund 4,232 GW in new solar power plants, more than 3.5 times the size of the current US electricity grid.
The G-20 countries collectively cut fossil fuel financing by 10 percent from 2015 to 2019, with eight member countries making notable progress in reducing their fossil fuel subsidies by 10 percent or more (Argentina, Germany , Italy, Saudi Arabia, South Africa, South Korea, Turkey and United Kingdom).
However, to stay in line with the objectives of the Paris Agreement in the perspective of COP26, the G-20 cannot rely on the actions of a few nations. Every G-20 country must take immediate action to end support for fossil fuel projects and accelerate their phase-out of coal.
During the same period (2015-19), eight members increased their support – including Australia, Canada and the United States – encouraging the use and production of fossil fuels, distorting prices and risking " lock in 'carbon – where assets are funded today will continue to emit high levels of emissions for decades to come.
G-20 countries must implement emission pricing mechanisms to hold polluters accountable for the true social cost of their actions in order to effectively phase out coal and other fossil fuels ahead of COP26.
12 G-20 countries have established national prices for greenhouse gas emissions either through a carbon tax or through market mechanisms, with France and Germany making the most progress in terms of share of emissions covered through a tax or a carbon market. This is partly due to their participation in the EU's Emissions Trading System (ETS) and their own national policies which have increased the share of emissions covered by an emission price.
Eight of the countries that have adopted emissions pricing have had mixed results due to lax policies, either setting carbon prices too low or making emitter concessions too generous. For example, in the United States, state-level programs cover less than one-tenth of national emissions, collectively, and prices are relatively low. Several G-20 countries, such as Saudi Arabia, Russia and Brazil, have yet to set prices on greenhouse gas emissions.
Applying globally accepted climate risk disclosure frameworks, such as that of the Climate-Related Financial Disclosures (TCFD) Working Group, is essential to ensure that climate risks and opportunities are accurately assessed, so that institutions financial institutions can take into account and assess the impact of climate externalities in their credit risk and valuation models.
"Given that the G-20 accounts for almost three-quarters of global emissions, the progress of these governments in these three areas would be a big step forward in tackling climate change," said Victoria Cuming, head of policy. world at BloombergNEF and lead author. of the factbook.