Lending policy will boost rental housing, real estate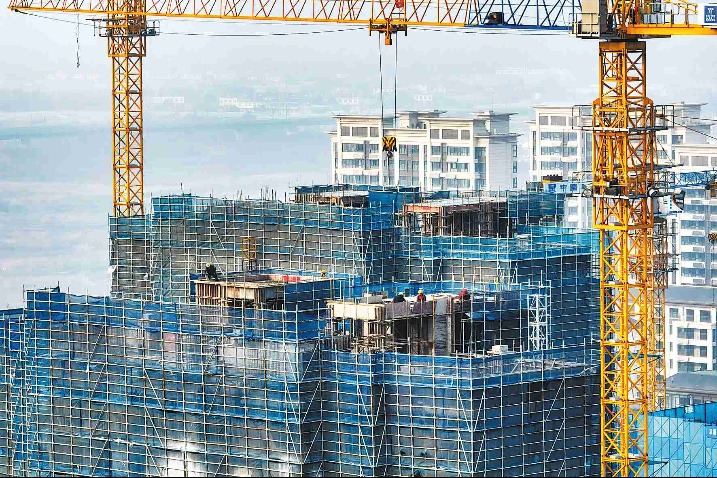 By WANG YING in Shanghai and JIANG XUEQING in Beijing | China Daily | Updated: 2022-02-10 08:11
Experts see increased lending, better home security system, stable building capital
The move by major Chinese regulators to exempt affordable rental housing projects from mortgage scrutiny could make this segment a potential driver of growth in the real estate market, experts said.
Loans offered by Chinese banking institutions to affordable rental housing projects will not be included in the management of housing loan concentration, the country's central bank and top banking and insurance regulator said on Tuesday.
Under the new regulations, it will be easier for property developers to obtain loans for affordable rental housing projects, and commercial banks are encouraged to provide such loans. Therefore, it will likely favor the country's housing support system, industry experts said.
"The new policy will certainly promote the development of subsidized rental housing, and it is also an improvement in the housing loan management system. With more developers applying for loans for affordable rental housing, the sector will see better and faster development. this year," said Yan Yuejin, director of the Shanghai-based E-house China Research and Development Institute.
To protect its financial system from risks, China has implemented the home loan concentration management system since Jan. 1, 2021, according to Xinhua News Agency.
Previously, the People's Bank of China and the China Banking and Insurance Regulatory Commission had implemented a real estate loan concentration management system for banking institutions and set various ceilings for the ratio of loans related to real estate development. and consumption depending on certain factors, notably the size of the assets and the type of banking institutions. Now they have decided to exempt affordable rental housing projects from the management system.
"It is a good thing for banking institutions to increase credit for affordable rental housing projects and support the construction of China's housing support system," the PBOC and CBIRC said.
Property developers would become more active in developing affordable rental housing, which will effectively expand the supply of subsidized rental housing, said Huang Hui, senior analyst at Beike Research Institute.
According to Huang, some real estate developers are currently facing immense pressure on capital. Affordable loans for rental housing will help them maintain both a stable flow of capital and smooth operations.
Banking institutions should step up their support for affordable rental housing projects and provide related financial products and services; they must ensure that the loans comply with the relevant laws and regulations and that the associated risks are controlled. They should also develop a sustainable and commercially viable business model, the two regulators said in a joint notice.
"The new policy removed the restriction on loan approval for government-subsidized rental housing projects. This is intended to encourage commercial bank lending for these particular purposes," said Li Yujia, chief analyst at the Guangdong Provincial Residential Policy Research Center.
According to Li, affordable housing loans are charged at relatively low interest rates, which means commercial bank returns on these loans will be lower than commercial loan returns. The exclusion of special loans from their management system will encourage banks to grant more loans in this regard.
Zheng Chenyang, a researcher at the BOC Research Institute, said she now expects nothing less than a boom in affordable rental housing construction. Up to 20 provinces announced their annual plans for the development of affordable rental housing projects in January, Zheng said.
Local governments have also accelerated the pace of development of these projects since last year. As many as 942,000 subsidized rental housing units were developed in 40 Chinese cities in 2021. That figure is expected to reach 2.4 million units this year, the Securities Times reported.