Ruto strikes new IMF deal after State House meeting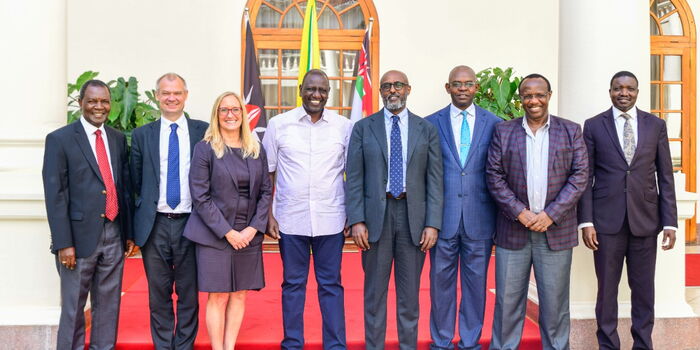 On November 5, President Willian Ruto met with Director of the African Department of the International Monetary Fund (IMF), Abebe Aemro Selassie, at State House, Nairobi.
The government and the IMF have partnered to boost Kenya's economic output through various initiatives.
"We are taking deliberate steps to strengthen the economy through reforms to the Kenya Revenue Authority (KRA), shifting from consumption subsidies to production, increasing the level of national savings and focusing on adding value, among other things," State House said.
President William Ruto with the IMF delegation on November 5, 2022.
Twitter/State House
Ruto noted that the IMF has strategically realigned its priorities with the Kenya Kwanza program aimed at lifting the most vulnerable out of economic despair.
"We are grateful that the International Monetary Fund is aligning with this strategy," State House added.
Abebe Aemro Selassie, who was with other IMF leaders, also welcomed the fruitful visit.
The IMF boss was a close economic ally of former President Uhuru Kenyatta's government.
On its website, the IMF pledged to support Kenya's development agenda despite regime change after the August 2022 elections.
"Kenya's economic program, supported by the Fund's Extended Financing Facility and Extended Credit Facility agreements, provides a key policy anchor for debt sustainability and public confidence.
"Against this backdrop, the authorities' continued commitment to prudent policies and advancing structural reforms remain critical to maintaining macroeconomic stability and safeguarding Kenya's positive medium-term outlook," the IMF wrote on its website.
The IMF also welcomed the Central Bank of Kenya's recent monetary policy on fiscal spending tightening.
According to the IMF, "the CBK should stand ready to continue to adjust its position to limit the second-round effects of higher food and fuel prices and to keep inflation expectations well anchored within the framework of a temporary increase above the target range.
"The flexible exchange rate has worked as a shock absorber during the pandemic and is expected to continue to do so against current global shocks, with forex interventions limited to dealing with excessive volatility."
On November 5, 2022, President Willian Ruto met with Director of the International Monetary Fund (IMF) Africa Department, Abebe Aemro Selassie, at State House, Nairobi.
Twitter/State House Nairobi